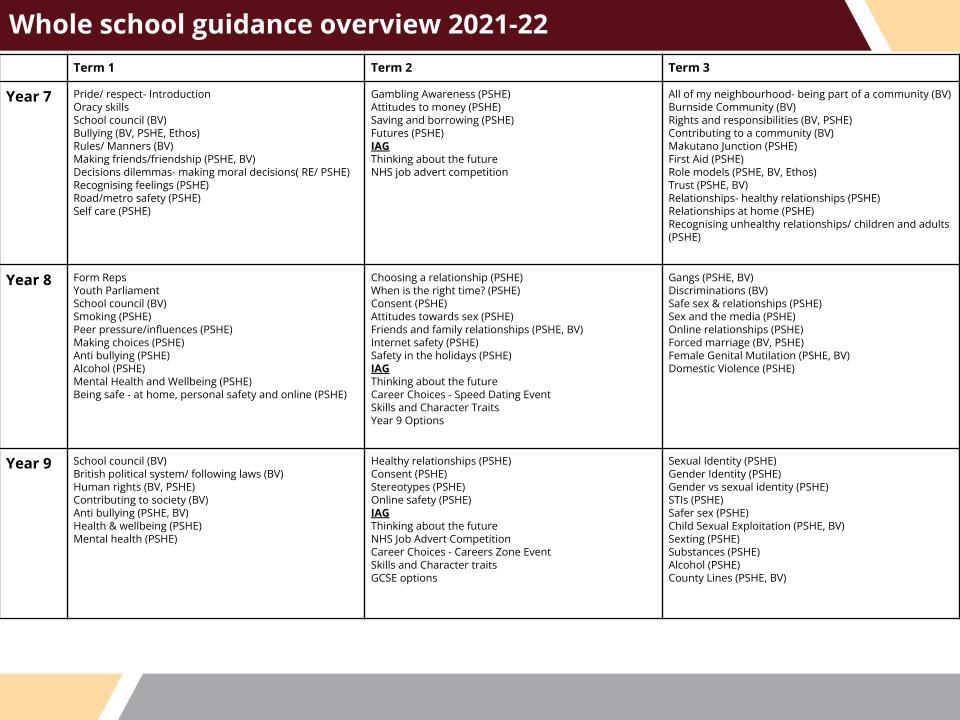 Thoughts for the day:
The 'Thoughts for the Day' are delivered by  tutor based around a themes which reflect the school's commitment to promoting SMSC, British Values and our values of PRIDE and RESPECT. They offer students a time for reflection and discussion about a particular issue, quote  theme, question or image. They are based on the assembly theme for the week to promote SMSC, the school ethos and British Values. The focus of  Collective Worship is reflection, learning and developing tolerance and understanding.
Intent: The Guidance curriculum
We have a statutory requirement to deliver an exciting, interesting and informative curriculum based on the needs of our students. This ensures that our students are healthy and safe and have access to IAG on Health and Wellbeing,  Relationships, Careers and Living in the wider world. This supports the development of students: physical, emotional and personal well being. Alongside promoting tolerance and understanding through the RE curriculum. Each year group follows a scheme that is relevant to the needs of that particular group and includes topics and issues for study from:
PSHE- Personal, Social, Health and Economic education.
SMSC- Spiritual, Moral, Social and Moral development
British Values
RE Curriculum: This is from the North Tyneside Agreed Syllabus  in Yr 7-9 and AQA GCSE content in Yr 10 and 11
Co-ordinators: Joanne Somerville and Kirsty Giles
SLT leader: Nicola Stephenson/Helen Patterson